You are capable of forging strong creative and personal alliances. 6-59 Intimacy Channel Human design helps you to build deep and trusting relationships that are potentially fertile in every sense.
Channel 6-59 Human Design connects two energy Centers – Sacral, which is responsible for all vital energy, and Emotional, also known as the Solar Plexus, which is responsible for the passion, feelings and emotions of a person.
The channel consists of 59 Gate of Sexuality, which by their nature is responsible for procreation and vital energy and 6 Gates of Friction which is responsible for emotional component. The emotional wave generated by this Channel has a great impact on all spheres of life of the person who possesses it. Under its influence fall intimate, love, personal and creative relationships of a person with others.
It should be noted that Gate 59 is part of the Tribal Circuit. Therefore, a person who possesses them will be inclined to procreation and subsequent care of their offspring and ensuring a good standard of living for their families.
6-59 Intimacy Channel in Human Design. Potential Description
Owners of the Intimacy Channel are distinguished by their brightness and creativity. Usually, such people arouse a genuine, deep interest in others. It so happens that other people involuntarily begin to compare themselves with the owner of Channel 6-59, trying to match him.
The charm and aura of a person with the Channel of Intimacy provides him with many admirers. But, nevertheless, when choosing sexual and personal relationships, the owner of the Channel, if he is in the True Self, is always extremely picky. Fleeting connections and short stories are of no interest to such a person. It is always aimed at a longer, deeper and more trusting interaction. Consistency in all personal interactions is extremely important to them.
By the way, the owner of the Channel of Intimacy shows a similar approach in the business sphere, being in the state of the True Self. All his working relationships are built on the principles of responsibility, stability and honesty.
Create a new Bodygraph here.
Channel 6-59 makes wonderful intimate and creative alliances.
Such people are very prolific. Fertility here is expressed both in childbirth and in the creation of various ideas and concepts, strategies with other people.
When the owner of the Channel of Intimacy makes decisions mainly based on his Strategy and Inner Authority, then most likely he lives in harmony with himself and his Self.In this case, he is not very embarrassed by the emotional waves that periodically emanate from the 6 Gates of Friction. So, a person can allow himself to be at an emotional peak, and after some time to be in a state of decline, he realizes that this is quite normal, and perceives the period of decline as a time for relaxation and recovery.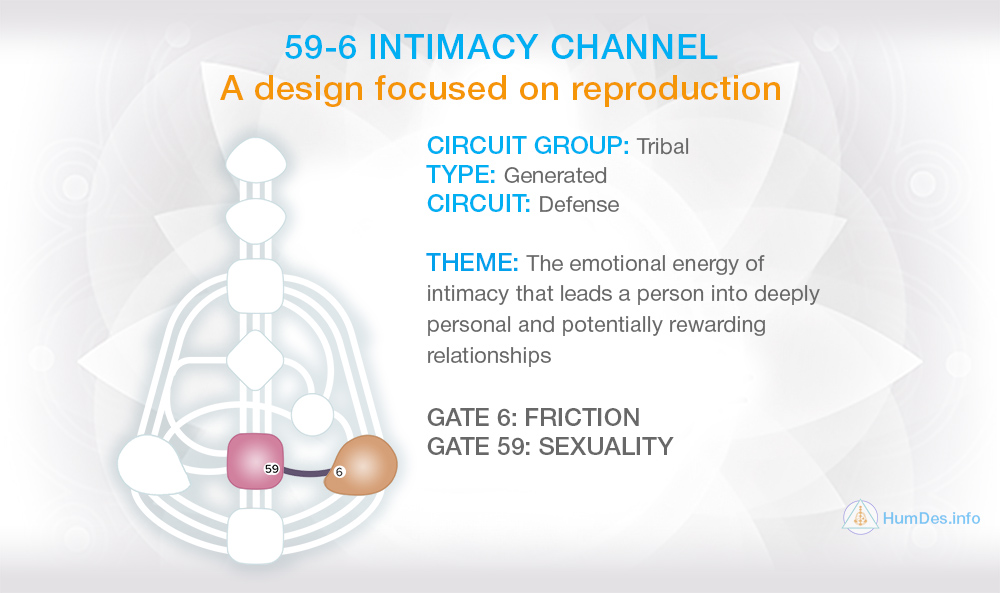 Intimacy Channel False Self 6-59
The most unpleasant thing that happens to the owner of the Channel of Intimacy is the loss of true orientations and values. For example, the diplomacy and tact that are so characteristic of a person with the Channel of Intimacy are replaced by arrogance and rudeness. The desire for deep and lasting relationships is replaced by a bunch of fleeting romances and connections. Creative needs are replaced by material ones, and enthusiasm turns into excitement. Obviously, such manifestations negatively affect a person's life and literally can one day drive him into a corner, since such a model of behavior is not intended for him.
You need to know the enemy by sight, so remember the manifestations of the False Self and do not let him lead you astray. Each Channel has its own nuances and negative manifestations. You need to study yourself completely in order to understand where you are and where you are not.
INTERESTING PAGES