You were born to make money. Willpower is the main assistant in work. Employment is not for you. You are the sole player who cannot tolerate submission. The main thing is to learn how to delegate.
Channel 21-45 Human Design Money Channel connects the Heart Center to the Throat Center through 21 Hunter's Gates and 45 Collector's Gates. This Channel differs from all the others in its purposefulness. In fact, the Gateway does not easily interact with each other. The lot of 21 gates is subordination and service, but at the same time they have a desire to control everyone and everything. 45 The gates perform the function of the owner, the protector, and they want the final word to belong to them.
Man Design with 21-45 Money Channel description
A person with a manifested Money Channel needs to learn how to make money. Nature has already laid the necessary resources for this, it remains only to use them correctly.
Such a person is able not only to find money topics, he can convince others that the idea is really profitable. It will not be difficult for the owner of the Money Channel to attract a sponsor to a project that will seem like a gold mine to him.
On the way to achieving material success, it is very important for a person with a Money Channel not to be under someone's control, but rather to control everything himself.
Gaining independence is the main secret of such a person's success. It is common for the owner of Channel 21-45 to work hard, but it is better to do it at your own pace. With a strong tendency to control, delegation can be difficult – it is worth getting rid of it. Learn to relax, calm down, and trust people. After all, all these stress factors push overcontrol and do not give the opportunity to delegate Authority to people who can perfectly cope with tasks. It is important to consider that the satisfaction from the work process directly depends on the resulting profit.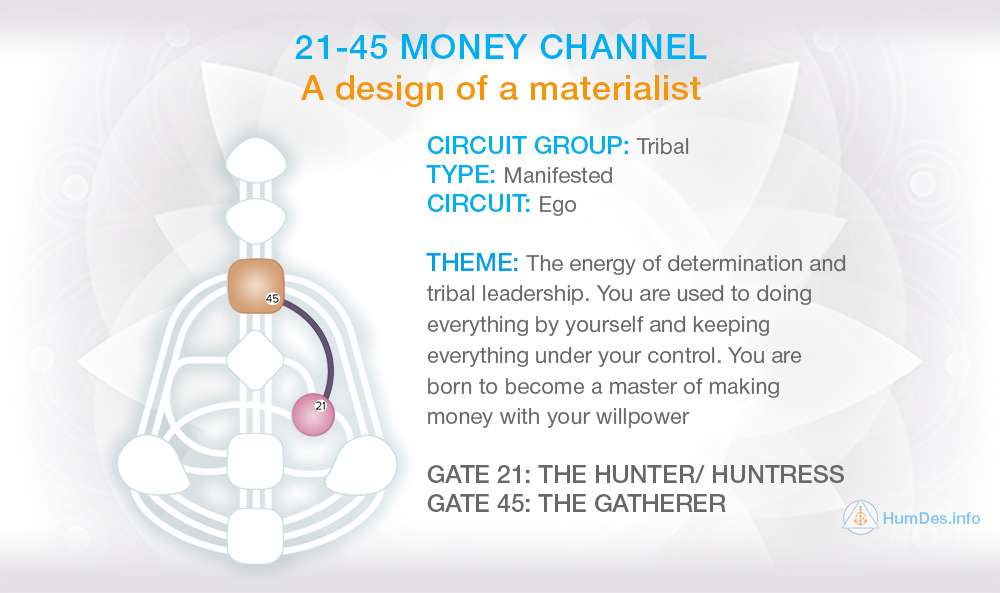 A person with Channel 21-45 is extremely easy-going, able to make quick decisions and also immediately take action.
Create a new Bodygraph here.
If a person with a Money Channel chooses an area for development and earnings, then soon he becomes a highly paid professional in it.
It is also worth noting that the owners of the Money Channel are predominantly selfish by nature. But, I must say that their egoism can be called healthy and more like a proper love for oneself, the ability to take care and do good for oneself, and then to other members of their tribe, taking responsibility for their well-being.
The False Self of 21-45 Money Channel
Let's start with the fact that if the owner of the Money Channel works for a small remuneration and is in someone's strict submission, this is the tricks of the False Self.
Likewise with his authoritative opinion, which is usually respected by society. Being in the False Self, a person can change to such an extent that he will try to please and correspond to the opinion of others. The other extreme is possible – abuse of one's Authority, which develops into authoritarianism.
When a person with a Money Channel lives in the False Self, other people's attitudes about money play a very dangerous role – the person is too susceptible to them. For example, that big money can only be obtained by dishonest labor, or in general you need to be content with what you have. You should not take other people's principles for truth and try to apply them in your life.
If you have a Money Channel, you a priori cannot be a mediocre employee with low wages. Let's say you decide to discuss your career and financial growth with your boss, he doesn't want to listen and thinks that you have already reached your maximum. Understand – this is only his opinion, most likely dictated by the company's budget. You should always remember that what you think and know about yourself is much more valuable and important than the opinions of other people about you.
The False Self is very insidious, but if you know its manifestations described above, you can find yourself in it in time and pull yourself out.
INTERESTING PAGES